Aggie Football and Camping Fun: The Perfect Combo
Hey, Aggie fans! Are you pumped for some Aggie football action? Whether the Aggies are playing at Kyle Field or it's an away game, Great Escapes RV Resorts Bryan College Station offers the perfect setting for an unforgettable football experience. We're your home away from home, where you can enjoy the game and so much more.
The Perfect Game Day Setup for Aggie Football Fans
When the Aggies are away, you can still play! Enjoy a mini-vacation right here at Great Escapes, complete with all the amenities to make your game day special. Our resort features a big screen in the clubhouse, known as the "Ultimutt Hangout," where you can cheer on your team with fellow fans. If you prefer a more private setting, you can also watch the game at your own cabin or RV site, surrounded by the beauty of nature.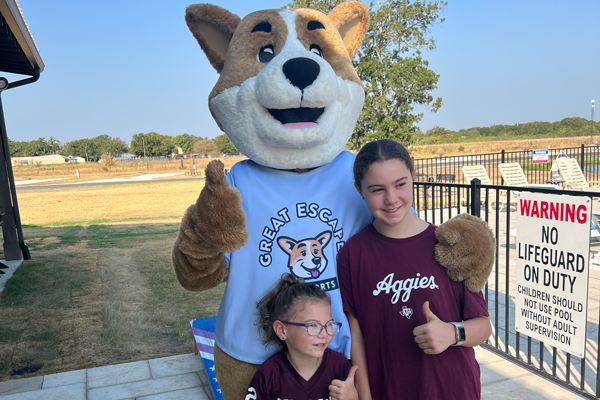 Game Day Snacks
Let's taco 'bout snacks! Here are 10 quick and easy game-day snack ideas that'll make you the MVP of your RV:
Buffalo Chicken Dip: A spicy classic that pairs well with tortilla chips.
Mini Sliders: Perfect for sharing, these bite-sized burgers are a hit with kids and adults alike.
Nachos Supreme: Layer on the cheese, jalapeños, and guacamole for the ultimate nacho experience.
Pigs in a Blanket: These are always a hit, especially with the little ones.
Veggie Platter: A colorful array of fresh veggies served with a tangy dip.
Cheese and Charcuterie Board: Add some gourmet flair to your game day with a variety of cheeses and meats.
Pizza Rolls: A quick and easy snack that's always a crowd-pleaser.
Soft Pretzel Bites: Serve these with a side of mustard or cheese sauce for dipping.
Chili Cups: Individual servings make it easy to enjoy this hearty favorite.
S'mores: End your game-day feast with this classic sweet treat around the campfire.
And if you find yourself short on supplies, our camp store is stocked with all the essentials you'll need.
Pre-Game Activities
Get into the Aggie spirit with some pre-game fun right here at the resort. From a friendly game of cornhole to a refreshing dip in the pool, we offer a range of activities to keep everyone entertained. It's the ideal way to build up excitement before the game starts!
The Ultimate Convenience
If the Aggies are playing at Kyle Field, you're in for a treat! We're just about 5 miles away, so you can go from pre-game fun at the resort to cheering in the stands in no time. It's the best of both worlds: enjoy the tranquility of nature at your cabin or RV site and the electrifying atmosphere at the stadium.
Make Your Aggie Football Season Unforgettable
Great Escapes RV Resorts Bryan College Station is more than just a place to stay; it's an experience. From the comfort of your own space to the camaraderie of fellow fans, we offer something for everyone. So why wait? Make this Aggie football season truly memorable by booking your stay with us. Gig 'em, Aggies!
Ready To Be Part of the Ultimate Aggie Football Experience?