How to Stay Cool and Beat the Texas Heat This Summer
Embrace the Sunny Season at Great Escapes RV Resorts Bryan College Station
As the summer season descends upon Texas, bringing with it soaring temperatures, you might be wondering how to stay cool while still soaking up the joys of the sunny season. At Great Escapes RV Resorts Bryan-College Station, we've mastered the art of staying cool in the Texas heat. Here's how you can too.
How to Stay Cool at Great Escapes RV Resorts Bryan-College Station
Dive Into Our Resort-Style Pool
One of the best ways to stay cool this summer is by immersing yourself in the refreshing waters of our resort-style pool. More than just a place to beat the heat, our pool serves as a vibrant social hub where friendships bloom over pool games and shared laughter under the Texas sky​.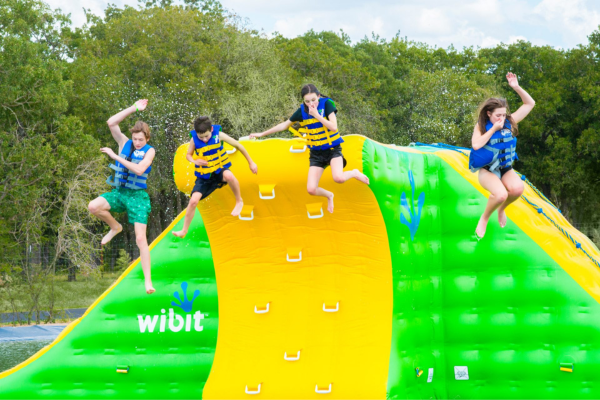 Engage in Exhilarating Water Fun
For thrill-seekers and fun-lovers alike, our Wibit™ Water Obstacle Course is a splash-filled paradise. This aquatic playground offers more than just a chance to get wet—it's a water wonderland where you can jump, climb, slip, slide, and perfect your cannonball!
Enjoy a Breezy Exploration
Discover the joy of exploring our expansive resort without the summer heat weighing you down. Our Golf Cart Rentals provide a breezy way to traverse the resort, allowing you to enjoy the wind on your face and the shade of the cart as you navigate from one amenity to another​​.
Quench Your Thirst with Refreshing Drinks
Hydration is a critical part of staying comfortable during the summer. Our Camp Store is stocked with chilled drinks and plenty of ice, making it the perfect pit stop for refreshing treats between your adventures within the resort​​.
Stay Cool in Comfortable Accommodations
At Great Escapes, we provide a range of accommodations designed with your comfort in mind. Our full hookup RV sites come equipped with electricity, allowing you to power your AC units and fans, creating a personal haven where you can stay chilll and relaxed.
On the horizon, we're also preparing to introduce our air-conditioned cabins. These cozy retreats will offer another sanctuary where you can escape the heat and enjoy your summer vacation to the fullest.
Unwind in Our Cool Community Hangout
Community and comfort converge in our Ultimutt Hangout Activities Center. This air-conditioned, communal hub is another great answer to how to stay cool. Here, you can engage in friendly games of pool, table foosball, ping pong, and tabletop shuffleboard, all while escaping the summer heat​​.
At Great Escapes RV Resorts Bryan-College Station, we have crafted the perfect summer experience that blends exciting outdoor activities, modern amenities, and the essential ways to stay cool. Join us this summer, and let us show you how to stay cool and create unforgettable memories in the Texas heat.
Your Coolest Summer Yet Awaits!