Kids Rule: A Guide to Camping with Kids at Great Escapes
Are you ready to turn your family vacation into a thrilling adventure? Camping with kids at Great Escapes RV Resorts Bryan-College Station is the answer! More than just an outdoor escape, it's an opportunity to create lifelong memories. Here's how to ensure your camping experience with kids is packed full of fun, learning, and repeat requests for more camping adventures!
Tips for Camping with Kids at Great Escapes
Planning is Key
Let Your Kids Help Plan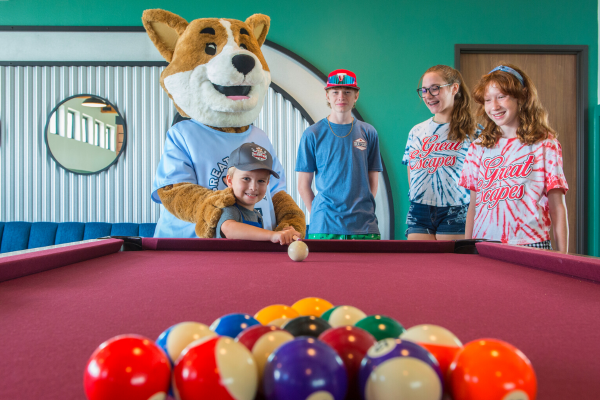 Kickstart the excitement by involving your children in the planning process. Let them contribute to choosing the perfect RV site or cabin and deciding on the activities they can't wait to dive into. This will set their anticipation soaring for the amazing experiences ahead at Great Escapes RV Resorts Bryan-College Station.
Pack Together
Transform packing into a fun-filled activity by involving your little ones. Have them create checklists of items they think they'll need. This pre-camping exercise builds excitement and teaches the importance of preparation.
At the Resort
Making Your Space a Home
Upon arrival, involve your children in setting up your spot. From arranging outdoor furniture to organizing sleeping areas or accompanying you to our camp store for supplies – these tasks make kids feel included and teach them useful skills.
Get Acquainted with the Resort
Embark on a family exploration of our resort to get acquainted with all the amenities and activities we offer. From sports courts to our resort-style pool, Great Escapes RV Resorts Bryan-College Station is a family destination all on its own!
Maintain a Familiar Routine
Maintaining a basic schedule for meals and bedtime provides a sense of security for kids in a new environment. Balance the thrill of the great outdoors with the comfort of routine – this doesn't mean you can't have late-night stargazing or early-morning golf cart rides!
Fun Activities for Your Little Campers
Star Gazing
Clear nights are perfect for stargazing. Introduce your children to constellations and planets, transforming the night sky into a vast universe waiting to be explored.
Campfire Storytelling
A staple of camping with kids is stories around the campfire. Encourage your kids to share their tales or invent new ones, promoting creativity and imagination.
Explore the Resort's Kid-Friendly Activities
We offer a range of activities at Great Escapes Bryan-College Station. From outdoor sports courts and a Wibit™ floating obstacle course to wagon rides and themed celebrations, your little ones will be spoilt for choice!
Safety First
Always prioritize safety. Teach your children essential safety rules – not wandering off alone, avoiding unfamiliar plants and animals, and campfire safety. Also, ensure they know what to do if they get lost.
Camping with kids at Great Escapes RV Resorts Bryan-College Station is an unforgettable adventure filled with fun, learning, and bonding. With careful planning and a spirit of adventure, your family camping trip will become an experience your kids will cherish and want to relive over and over again.
The Ultimate Family Adventure Awaits