Unique S'mores Recipes To Try at Great Escapes
Nothing says camping like a gooey, delicious s'more. At Great Escapes RV Resorts Bryan College Station, we're taking this classic treat to the next level with unique s'mores recipes you can try right at your own fire pit. Get ready to elevate your camping dessert game!
Unique S'mores Recipes
Recipe 1: Peanut Butter Dream S'mores
Add a twist to the traditional s'more by spreading a generous amount of creamy peanut butter on your graham crackers before adding the chocolate and marshmallow. The result? A dreamy blend of flavors that peanut butter lovers won't be able to resist.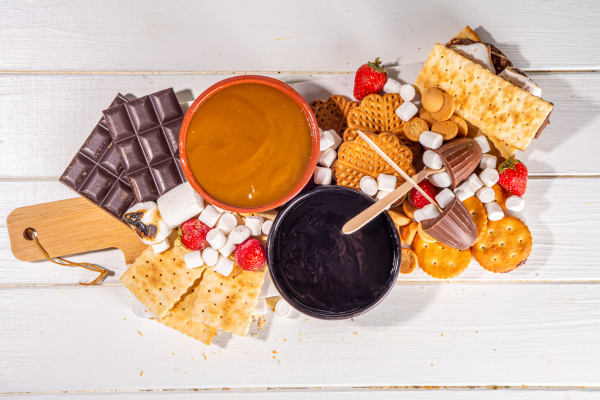 Recipe 2: Cookies and Cream S'mores
Swap out your regular graham crackers for chocolate sandwich cookies. Split the cookies, place your roasted marshmallow inside, and voila! You've got a cookies and cream s'more that's sure to be a hit.
Recipe 3: The Lone Star S'more
Try this unique twist on the classic s'mores recipe. Use a cinnamon graham cracker, a piece of dark chocolate, and a roasted marshmallow. Top it off with a slice of candied jalapeno for a sweet and spicy kick that's as bold as Texas itself.
Recipe 4: Salted Caramel S'mores
Give your s'mores a sophisticated twist with the addition of salted caramel. Simply drizzle some salted caramel sauce over your chocolate and marshmallow before sandwiching between your graham crackers. The combination of sweet and salty is genuinely irresistible.
Recipe 5: Tropical S'mores
Bring a taste of the tropics to your campfire with this recipe. Replace the traditional chocolate with a slice of pineapple and a piece of coconut-flavored chocolate. The result is a tropical s'more that'll have you dreaming of beach vacations.
Camping Just Got A Little Sweeter
Whether you're staying at one of our RV sites, each equipped with its own fire pit, or in our cozy cabins with access to community fire pits, these s'mores recipes are the perfect way to end a fun-filled day of activities at the park. So grab your marshmallow sticks, gather around the fire, and get ready to enjoy these delicious twists on a classic camping treat.
Sweeten Your Stay With S'more Goodness